Bikeways
Spring Valley and the surrounding areas are home to gorgeous state parks and bikeways.
Miami Valley Bike Trails
With over 340 miles of trails, to explore in the Miami Valley region, you're sure to discover a new adventure!
https://www.miamivalleytrails.org/trail-map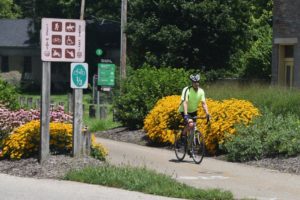 Friends of the Little Miami State Park
Detailed information on the state of the trail, local attractions, and links to other bikeway resources.
https://littlemiamistatepark.org/
Spring Valley Parks
Spring Valley has a variety of parks to choose from.
Walton Park
24-acre Walton Park is bordered by Elm Street, Main Street, and State Rt. 725.  The park is named after Spring Valley's founders, Edward Walton and his son Moses.  It offers a large parking area, playing fields, and a picnic area with a pavilion.  The Little Miami Scenic Trail is easily accessible from nearby Walnut Street.  The park is operated by Spring Valley Park District, owned by the Spring Valley Township.
For Pavilion reservations, sports team information or other information, contact: SVtwp.org .
Bledsoe Park
Bledsoe Park, located on Main Street, across the street from the Post Office in the Town Hall, is maintained by Spring Valley ACTS for the community.
Thompson Pavilion is available to the public at no cost, must have a signed contract and be able to provide insurance for your event.
For Park reservations, contact:
Spring Valley ACTS, Inc.
PO Box 26
Spring Valley, OH 45370
937-862-5250
Founders' Park
Founder's Park, on the southwest corner of Main Street and the Little Miami Scenic Trail, is operated by Spring Valley ACTS for the community.  It was recently renovated and renamed "Founders' Park" because of a marker in the park commemorating Madgel Summers, a community booster in the mid-1900s.  A marker and tree honoring Marylee Sutton (1935-2010), who served as the organist of the Spring Valley Methodist Church for 58 years, is also located in the park.
Greene County Parks
The Green County Parks website provides information on parks and programs in our county.  County parks close to Spring Valley include:
Constitution Park
Located on the Little Miami River on State Rt. 725, where Spring Valley's Main Street ends, this 2-acre park is operated by the Greene County Park District.  In addition to a historical marker, the park offers a canoe launch, picnic table and benches, and primitive camping.  Local resident and historian Ione King was instrumental in establishing this park.
Funk Nature Sanctuary
Located on the Little Miami River, bordered by US 42 and the Little Miami Scenic Bikeway, this 21-acre protected landscape area is owned by the Greene County Park District.
Travertine Fen
This 21-acre site is located on the northeast of the Little Miami Scenic Bikeway, just beyond the Bellbrook Avenue Bridge.  It is a protected wetland fed by springs and is home to many rare species.  This unique fen is open only on naturalist-led hikes, which are advertised in the Activity Guide found at the Greene County Parks website.
Glady Run Reserve & Staging Area
This 33-acre reserve on Lower Bellbrook Road, 2 miles south of Xenia, offers parking, portable restrooms, and access to the picturesque and shady portion of the Little Miami Scenic Bikeway as it parallels Glady Run, a winding creek which powered Spring Valley mills in the 1800s.
Crooked Creek Nature Sanctuary
A protected 18-acre wooded sanctuary located at 2565 Spahr Road in Sugarcreek Township, Crooked Creek is accessible by permit only.
Ohio State Parks
The State of Ohio takes great pride in their parks and natural resources. Two examples of these can be found near Spring Valley:
Caesar Creek State Park
A large park offering boating, hiking, camping and swimming, a nature center and pioneer village, and much more.
http://parks.ohiodnr.gov/caesarcreek
Spring Valley Wildlife Area
A nature preserve with archery and rifle ranges, hunting and fishing. Find maps and more information here:
http://wildlife.ohiodnr.gov/springvalley